Apple Music vs. iTunes, what's the connection and the difference? If you are into the Apple ecosystem, iTunes and Apple Music are pretty dominant parts of it. Despite its immense popularity, there is a lot of fog out there. As far as our research goes, people think of these two according to the utility it provides to them. But there is so much more that we will try to cover in this article.
So stay tuned to enlighten yourself with the features, differences, and functionality like sync for Apple Music and iTunes.
CONTENT Part 1. Is Apple Music the Same as iTunes?Part 2. Apple Music vs. iTunes, Which One to Pick?Part 3. How to Sync Apple Music to iTunesPart 4. Can You Use iTunes Gift Cards for Apple MusicPart 5. iTunes Match vs. Apple MusicFinal Words
Part 1. Is Apple Music the Same as iTunes?
Features of iTunes
Now let's sum it all up with the features of iTunes. iTunes is more than a music player. You're all in one music package to manage, export, listen, or sync applications. iTunes is like the bypass gate to access and unlock Apple Music. iTunes is your go-to application, download the software and log in using your Apple ID. You will already be in your Apple ecosystem.
Music and video player and organizer
Download unlimited songs with Apple Music Subscription
Access to iTunes store. Buy Music, Movies, TV Shows, podcasts, audiobooks, and more.
Manage iPhone, iPad, and Mac media using iTunes
Sync your iTunes content across multiple devices via secure backup
Features of Apple Music
Apple Music is an exclusive Music Application for Apple Users. It is now the defacto standard music application for all Apple devices. Music applications in iPhone, Mac, or iPad are no longer typical applications. It directly merges with Apple Music for the better. Apple Music holds the most extensive music library on Earth to date. Apple Music has over 75 Million tracks, far more than any of its competitors. This alone is a striking feature of Apple Music. Now let's move on to some of the features of Apple Music.
Superior audio quality with Dolby Atmos and Lossless
Specifically curated playlists with the help of AI
Integrated complex commands for Siri
Automated and optimized downloads to save on storage while high on quality
Create and manage playlists
Download unlimited songs
Difference Between iTunes and Apple Music
At this point, you have learned that iTunes and Apple Music are music players. So what's the difference? The difference becomes apparent when you look at the bigger picture. I am personally a user of both software. And at this point, I feel like both are present for a very different purpose despite shocking similarities.
Apple Music is a classic music player, but iTunes is both a media manager and media player. Apart from music, iTunes is the manager for the whole Apple Ecosystem. No media comes in Apple devices from non-Apple devices without iTunes. So it's a gateway for media into the Apple ecosystem. Apart from that, it can keep media backup and restore them on request. Plus, it can sync across multiple devices. It won't be wrong if we take it as Google Drive made only for the iPhone.
Apple Music limits its abilities to a mere media player and organizer. And it's the best in its class. You can export your Apple Music library to iTunes through iCloud. But what's unique with Apple Music? It lets you create playlists, even suggests some while allowing you to make specifically curated playlists on Apple music. These features are exclusive fro Apple Music only. Recently Apple introduced its music application for Mac and iPhone with Apple Music. SO that you can run your local music and Apple Music right within a compelling application, remember iTunes can only show you what's already within Apple Media or media you introduce to it.
Part 2. Apple Music vs. iTunes, Which One to Pick?
Many people compare Apple Music with iTunes. But I think it's not just a comparison. And I have valid points for this. First of all, Apple Music is a streaming application with over 75 Million music files. If you are a music lover and value precise music, Apple Music is the best music streaming service. iTunes is a mere bonus on top of Apple Music. You can find your Apple Music in the iTunes library, so it's essentially the same thing.
Things start to get interesting when you cross the music player mark. iTunes is a potent media manager, and it can hold local music as well. So if you are heavy on local music and media, then you should go for iTunes. But if you want a valuable media streaming service that can play any music, go for Apple Music. Either one you choose, the benefit of iTunes is for everyone since it comes free unless you buy from the iTunes store.
Part 3. How to Sync Apple Music to iTunes
The latest versions of iOS, iPadOS, and macOS offer default sync of Apple Music to iTunes. The feature is turned on all the time unless you kick it off. But for those who still want to know how to sync Apple Music to iTunes, here is how you turn on Sync Library for iPhone, iPad, and iPod touch.
Step 1: Open Settings and go to Music.
Step 2: Turn on Sync Library. This will allow your purchased music and media to sync through all of the devices you import to iTunes.
For Mac users, you can follow this quick guide:
Step 1: Open Apple Music. From the menu bar at the top, click on Music and then Preferences.
Step 2: Open General Tab and tick mark Sync Library. Then click on Ok.
NOTE: These options will only be visible if you have an active Apple Music subscription.
Part 4. Can You Use iTunes Gift Cards for Apple Music
Apple Music is a paid application. And there are lots of ways you can use it to pay for the subscription, one of which is using iTunes Gift Cards. iTunes gift card is permissible to use as a paying option for App Store, iTunes Store, and Apple Books. The gift cards that you can use to pay for an Apple Music subscription range from $4.99 to $14.99, depending on your plan. It's one thing to answer: can you use iTunes gift cards for apple music, but do you know how to use them? Don't worry. Below is how you can redeem your iTunes gift cards for Apple Music.
Step 1: Open Apple Music. Click on Menu and then Account.
Step 2: Click on "Redeem Gift Card or Code." Enter your 16-digit code that begins with X. and click on Redeem.
Anything Better Than iTunes Gift Cards?
Well, no matter you use an iTunes gift card or not, the Apple Music subscription is still a considerable expense. Did you know you can enjoy Apple Music for free? There's an ultimate solution without paying for the Apple Music subscription - Use a professional audio converter to have all your Apple Music library upfront.
SpotiKeep Apple Music Converter is a powerful software that can extract your Apple Music library and turn it into local music. Its promising features can kick off encrypted AAC formats and replace them with MP3 while still nailing the quality. Here are some of the significant features that SpotiKeep Apple music Converter has to offer.
It removes DRM protection of all Apple Music
Customizable output formats including MP3, M4A, WAV, AAC, and FLAC, among others
No need to pay Apple Music Subscription anymore worth $9.99
Retains the original ID3 tags of songs, artists, and playlist
Lossless audio quality and batch downloads
High conversion rates for Mac and windows, up to 5x and 10x, respectively
Now that you know the compensation for Apple Music, let's shift towards the bigger picture of converting Apple Music into MP3 using four simple steps as mentioned below.
Before starting, if you haven't downloaded SpotiKeep Apple Music Converter, please hit the toggles below for Mac and Windows to download the software.
Step 1: Launch the Spotikeep Apple Music Converter. And keep iTunes active in the background all the time during the process. The logic behind that is SpotiKeep sync with the iTunes library to show all of your Apple Music collection upfronts. This makes the process very easy and sublime when you have all the information you need right in front of you.
Step 2: Select music that you want to download by checking the box in front of each song. Check out multiple boxes for batch downloads.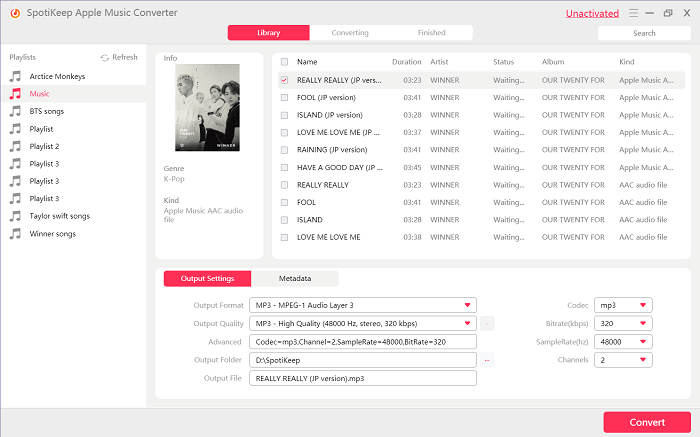 Step 3: Customize your output preferences, including output formats, audio quality, storage locations, and metadata of songs, artists, and playlists from the bottom of the screen.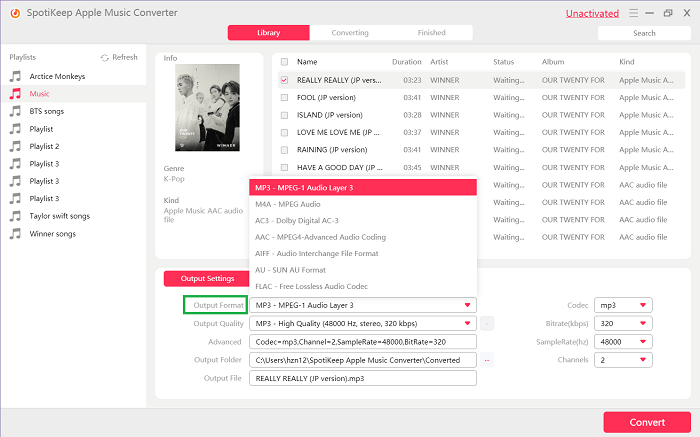 Step 4: Click on the Convert option located on the bottom right to convert your Apple Music songs to MP3 all at once.
Part 5. iTunes Match vs. Apple Music
iTunes Match is a subscription-based service that allows you to add Apple Music to the iCloud Music Library. Since iCloud syncs across all of your devices, it is easier for you to access all the time. iTunes Match is excellent for people who desire extra and customizability. iTunes Match lets you add music directly to iCloud, which means you can add any theme you want and make a set of digital music of your own.
While Apple Music offers access to almost any song on the planet. 75 Million pieces are more than what you can hear in your lifetime. However, you can import music to Apple Music, which makes it at par with iTunes Match. The ultimate choice is yours, but Apple Music offers far more value than iTunes offers if you ask me.
Final Words
Apple Music and iTunes both offer versatility and feature sets of their own. We have tried to make the picture clear for you by mentioning in-depth features, reviews, and differences. Plus, we have mentioned the gift card method of paying for Apple Music. There is also a sneak-out method for those of you who want the best. We believe we've covered everything you need to know on the topic "Apple Music vs. iTunes."
Would you please suggest to us which topic we should write for you next? Every day, we come with a different story, making it worthwhile and checking out dozens of practical solutions in the How-to section.
Apple Music Converter
Convert and Save your favorite songs from Apple Music Permanently for Free.
Don't miss a moment of the Music you love.
Spotify Music Converter
Download Spotify songs, albums and playlist Permanently for Free.
Don't miss a moment of the Music you love.