Apple Music isn't far behind Spotify regarding the music experience and subscribers. As of June 2020, Apple Music has over 72 Million subscribers globally. Apple Music shakes hands with some of the most recognizable mainstream media platforms like Roku. Sadly, this is not the case with PS4.
Don't worry, there is always a way around it, and this time it's the special one. We realize it's a feast to listen to your favorite music while playing immersive games. Now let's get to your question about how to stream Apple Music on PS4 and everything you need to know about it.
CONTENT Part 1. How to Connect and Play Apple Music on PS4?Part 2. How to Listen to the Downloaded Apple Music on PS4Part 3. FAQs of Apple Music on PS4Final Verdict
Part 1. How to Connect and Play Apple Music on PS4?
Unlike Netflix and Spotify, PS4 doesn't allow an inbuilt extension to connect to Apple Music. We all know Apple. There is not much collaboration outside their ecosystem, and especially it isn't easy on non-iOS platforms. Not only apple music but iTunes cannot directly connect to PS4, which leaves us with the only option to listen to the downloaded music.
Yes, the only way to stream Apple Music on PS4 is to download your Apple Music offline and then transfer it to PS4. Yes, it's possible with the SpotiKeep Apple Music to MP3 Converter. It's an offline downloader that will download your Apple Music playlists permanently on your device in accessible formats. The converter is available across Mac and Windows platforms with a 30-day free trial.
One subscription of SpotiKeep Apple Music Converter lets you free of Apple Music and online libraries. Essentially, getting you away from data and download management of the Apple music application. Let's see the features of SpotiKeep Apple Music Converter.
Removes the DRM (Digital Right Management) protection on the songs to prevent copyright infringements due to the music.
You can convert Apple Music songs in batch format, saving you time and effort.
High conversion rates make sure the download speeds are up to the mark. It offers conversion rates up to 10x for Windows and 5x for Mac OS.
Retains the original ID3 tags and metadata of albums, artists, and songs.
Customizable output formats including MP3, M4A, FLAC, WAV, AAC, AC3, and AU formats to cover up almost every media playback device.
Lossless quality music along with an easy-to-use interface.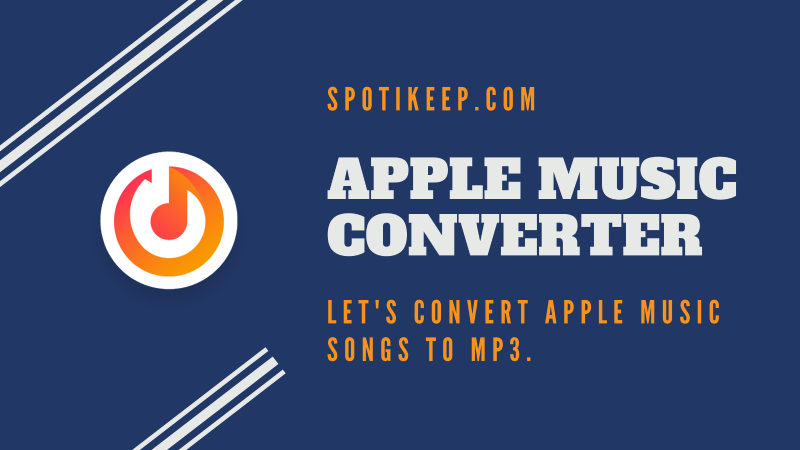 These features make the SpotiKeep Apple Music Converter a complete package. And it merely takes a few clicks to download songs directly from Apple Musi into your local music folder. You don't even need to have the Apple Music credentials to download the music, making you free from any other paid subscriptions along with the benefits mentioned above. Now let's look at how to download Apple Music using SpotiKeep Apple Music Converter.
Step 1: Download and Install the SpotiKeep Apple Music Converter. Then launch the application.
Step 2: Make sure you have your iTunes open all the time in the background. Upon launching the application, the converter will automatically sync with your iTunes library. You can see all of your iTunes songs in the Library section in the SpotiKeep Apple Music Converter.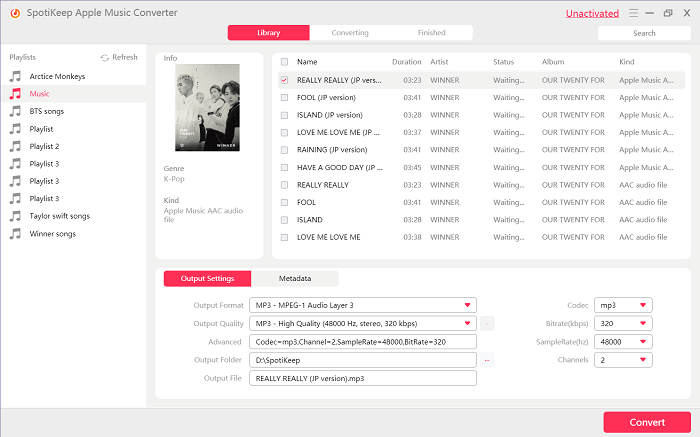 Step 3: Select the song you want to download in the library section of the converter. Adjust the output formats, including the audio quality and metadata of the songs. The name of the music, artists, albums or even playlist stats is easy to change.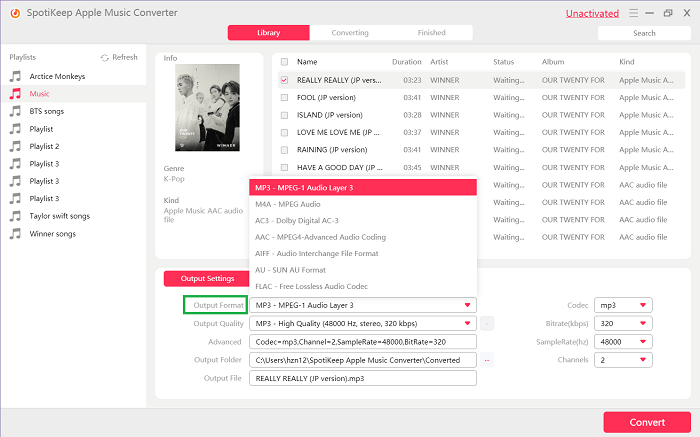 Step 4: Once you are done with all of the prerequisites, click on Convert. And the program will download the songs for you. The incredible features of the SpotiKeep Apple Music Converter kick in at just one touch at the Convert option.
Part 2. How to Listen to the Downloaded Apple Music on PS4
Once you have songs from the Apple Music converter downloaded into your device. Connect a USB to your desktop. And transfer your downloaded songs from Apple Music into the USB device. Let's get to it.
Step 1: Open the PlayStation Store and download the media player for PlayStation if you already haven't.
Step 2: Launch the media player and connect your USB device to the play store. You can also connect an external media server via HDMI cables.
Step 3: Click on USB or media servers in the media player, whichever you are going for. Look for the desired folder with downloaded songs. You can shuffle or play all songs by clicking on the options by highlighting the folder. Then click on play, and the songs will start playing.
Part 3. FAQs of Apple Music on PS4
Can You Put Apple Music on PS4?
PS4 does support many third-party mainstream multimedia applications, but Apple Music isn't one of them. Not even Apple Music, but iTunes also don't run on PS4. If you want to run Apple Music on PS4, you have to download the music first. That's why we have mentioned a complete guide to download songs from Apple Music using SpotiKeep Apple Music Converter.
How Can I Play iTunes on My PS4?
iTunes content is protected by DRM, allowing it to only play to the Apple-supported devices. The only way to get your iTunes content on PS4 is to remove the DRM protection and convert it to an accessible format. Use SpotiKeep Apple Music Converter for this, as mentioned in part 1.
Does PS5 Have Apple Music?
Apple Music is a sure improvement in almost every aspect compared to the older generation PS4. It offers a wide range of multimedia applications like Netflix, Amazon Prime Video, Spotify, Apple TV, etc. But Apple Music is still not one of these fantastic applications that PS5 Supports.
What Music Apps are on PS4?
PS4 allows its users to install a great deal of music and streaming application into the PlayStation via the PlayStation store. It supports Spotify, Roku, YouTube, Twitch, Netflix, etc. And a wide range of streaming applications is also there. Almost every application that is compatible and available on Android is also available on PS4.
Final Verdict
Apple Music is one of the most recognizable platforms for music. Having Apple Music on a gaming console like PS4 had been a great deal. But unfortunately, Apple limits its services to its ecosystem most of the time. But the no-brainer is you can still play all of your Apple Music on PS4 in a better way by using the SpotiKeep Apple Music Converter. You can also read our guide to How to Play Spotify on PS4, and it's a more detailed one since PS4 supports Spotify.
Let us know how well our guide serves you, and if you want to read similar articles, please visit our How-to section.