Apple Music ranks first with most subscribers in the U.S., second only to Spotify globally. However, not all users want to pay for Apple Music to enjoy their musical journey. So people try to find Apple Music Hacks. Unfortunately, there is very few that work. We have put an effort to curate a set of the best Apple Music Crack solutions to help you enjoy Apple Music for free, including the Apple Music Downloader, Apple Music ++, and Apple Music mod apk.
Let's begin with making an understanding of why crack Apple Music.
Part 1. Why Hack Apple Music?
Apple Music offers a three-month free trial. And after that, users can continue at $9.99 per month. So what's the point in hacking Apple Music? Especially when competitive applications like Spotify offer the same content for free.
Let's address the free trial offered by Apple Music. It's an addiction in broader terms. However, Apple Music allows its users to cancel Apple Music subscriptions at any time. Users already have so much music in their iTunes library that they can't leave it there. Plus, the habit of listening to Apple Music spoils so much, especially if you are into iOS. Apple has a decent retention rate for its users, which means most users who sign up for the service end up paying for it. If users have to continue using after the Apple music flees trial, they must pay for it. All offline music from Apple Music vanishes as soon as the subscription ends because they think Apple Music is the only way. No, it's not; you will get to know as we proceed.
So, people tend to sneak into ways to enjoy the same service and features without paying for them. Hacking Apple Music turns out to be the best alternative.
Part 2. Apple Music Hack on PC: Apple Music Converter
Though users manage to prevent paying Apple Music to enjoy premium features, the limiting factor is still there. Users still have to rely on Apple Music, so they cannot share any music, download it into local storage or use it anywhere because it's protected.
Skip all the mods and APK of the world. Use SpotiKeep Apple Music Converter instead. It copies your iTunes library and makes a local copy of it. So it's like having your Apple Music library as local music. A SpotiKeep user owns the music because of the DRM (Digital Right Management) removal. And at the same time enjoys high-quality music up to 320 kbps. The local music is easy to share, copy or edit.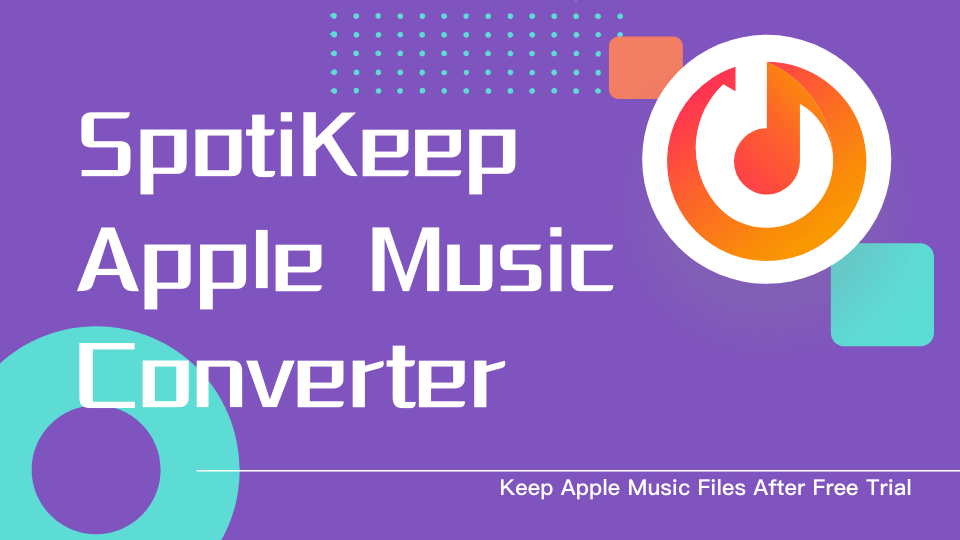 Let's have a look at the features of the SpotiKeep Apple Music Converter:
Customizable music formats and storage locations for offline downloads
DRM removal for easy to use music
High-quality audio up to 320 kbps
No need for any MOD, APK, or Apple Music Hack
No need for Apple Music
Enjoy the most reliable and authentic Apple Music hack right now by downloading SpotiKeep Apple Music Converter. Hit the buttons below to start downloading.
Suppose you are considering SpotiKeep Apple Music Converter as your Apple Music Crack. Here's a detailed guide on downloading and converting Apple Music to MP3 or other audio formats.
Step 1: Open iTunes. Then go to the SpotiKeep converter and launch it. SpotiKeep will intelligently sync with iTunes and bring the Apple Music library to the face of the application.
Step 2: As you can see, your iTunes library is in the application. Select the tracks you want to download by making a tick mark. Choose multiple songs at once to ease the download process.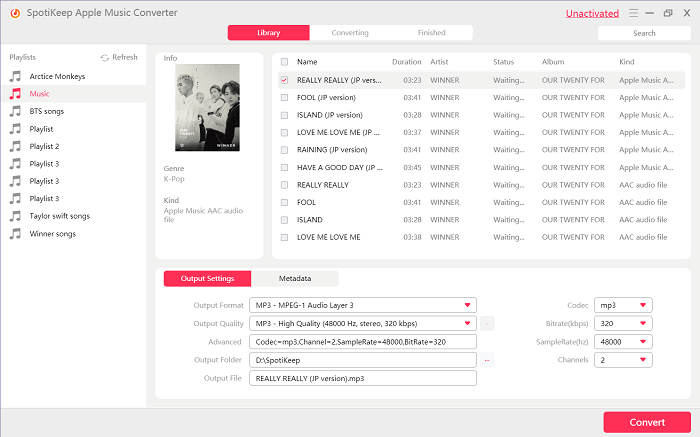 Customize your song's output formats, bitrates, storage location, metadata, and more from the center console at the bottom of your screen.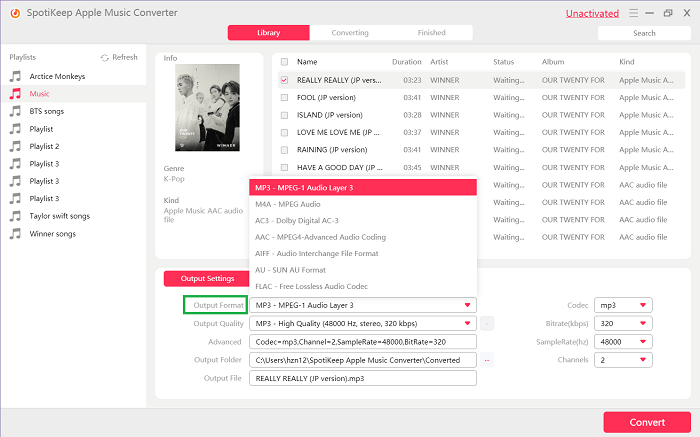 Step 3: Click on Convert to initiate the download process. Once a song finished ETA, you can skip to your local folder to find the fresh piece of music.
You can also refer to this video tutorial for more details:
Part 3. Apple Music Crack: Apple Music Mod APK (Android)
Android offer freedom to download and install from external sources. This makes the installation and use of these Apple Music crack functional. Let's look at brief descriptions of some of the best Apple Music Mod APK for android.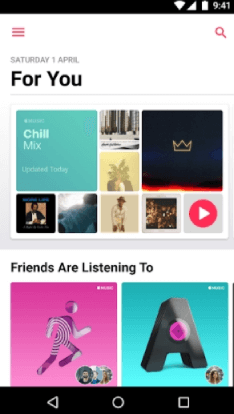 1. Apple Music MOD APK v5.11 (from Mods Of Apk)
Users of this Mod APK can unlock all features of Apple Music. Moreover, users get deep integration with Apple's software like Siri with this Crack version. All exclusive content on Apple music, including non-music content like video, documentary, and podcasts, becomes available through this channel.
Users can register as Apple Music users to sync with their friends and check the song status. This Apple Music Mod comes with a three-month free subscription and freedom to cancel anytime hassle-free.
2. Apple Music APK MOD [Premium Cracked] (from ARDroiding)
Owned by Cupertino, this Apple Music hack improvises all Apple Music paid account features into a free version. This Apple Music Mod only works for Android and Windows. It connects to the Apple Music database, so users have full access to Apple Music features like music, podcast, documentary, live beast one radio, artists, albums, and curated playlists.
3. Apple Music Mod Apk 3.2.1 (from HappyMod)
This Apple Music APK is a completely free package with no add-ons or root needed. All APK mods offer the same features since it cracks and unlocks the same application. The difference comes with the ease of download and installation process.
4. Apple Music MOD APK (Premium) 3.3.0 (from ApkRoar)
Apple Music Mod is a premium APK Mod that lets you enjoy more than 50 million songs, free access to exclusive content, and a specifically curated playlist. Moreover, users can register their Apple Music accounts to see the music status of their friends and better social interaction. There is no discrimination in the in-app usage. Offline downloads, custom playlists, Apple HomePod connectivity, you name it. This Apple Music APK is the most premium, and it comes with a free trial period. Download Apple Music Mod Now.
Part 4. Apple Music Hack: Apple Music ++ (iOS)
Apple Music ++ is an iOS-specific cracked version of Apple Music. It's an iOS alternative with all functions and features of a standard Apple Music APK Mod. Though all Apple devices have inbuilt support for Apple Music, you still have to pay for it to enjoy it. Not all of us want to pay an extra mile to enjoy the same services you can get using Apple Music ++ for free.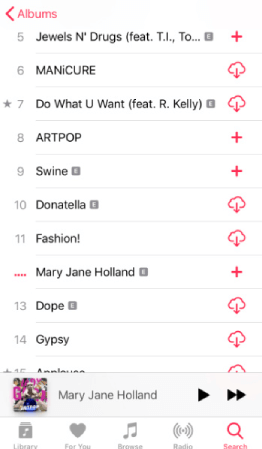 If you think that Apple Music++ is something different from the original Apple Music Application, let me guide you. It's an enhanced version of Apple Music, which means that nothing is changed but the addition of extra features, which we will discuss below:
Access to more than 70 Million songs
Seamless connectivity with Apple devices like HomePode
Auto-lyrics function
Offline in-app download
Siri integration
Personalized profile and albums
Here's the Apple Music ++ that scores all of the above features.
Inject AppleMusic++ (from SMMPatch)
iOS users inject Apple Music ++ for free lifetime access to Apple Music. This Apple Music hack requires users to install a mode script to modify the Apple Music content. It unlocks pretty much all features of Apple Music.
Apple Music Hack Tricks Summary
After all the Apple Music hacks we mentioned above, it may be hard for users to decide. Don't worry; we will make it seem effortless. Let's segregate the users into three groups.
First up with android users, these have the freedom to install Apple Music APK or Mods. We have listed a few modes that work for sure. Install anyone that you are comfortable with. Find more in Part 3.
iOS users cannot download any external third-party software. iOS users go through API or Altstore for their downloads. Try downloading Apple Music ++ from the download links in Part 4.
We highly recommend using SpotiKeep Apple Music Converter for PC users to break the chains of the suffocating Apple Music ecosystem. Import your Apple Music playlist now and enjoy the freedom to listen to Apple Music without any internet connection or Apple Music needed.
So now you know what you are dealing with, just hop over to your part and enjoy your music. Suppose you have anything more to inquire about. Please leave your queries in the comment section below.
Apple Music Converter
Convert and Save your favorite songs from Apple Music Permanently for Free.
Don't miss a moment of the Music you love.
Spotify Music Converter
Download Spotify songs, albums and playlist Permanently for Free.
Don't miss a moment of the Music you love.